EXCITEMENT AND WONDER AT USTICA
The island you've always dreamed of!
Treat yourself to a boat tour of the grottoes or discover them diving, it will be a special way to explore Ustica's sea. At Hotel Clelia we will give you advice on the best itineraries.
PLAYS OF LIGHT AND COLOR
The grottoes of Ustica offer a natural sight, that is hardly reproduced in other places, involving all your senses: ancestral, uncontaminated and wild charms that originated thousands of years ago. Enchanted eyes will follow a profusion of reflections of light that creep in the grottoes and play as in a kaleidoscope of colors on the rocks. The ears will be astonished to the noise of the sea as it breaks in different ways on the volcanic rocks producing variable and alluring magic sounds.
Ustica's grottoes are all different and each one offers a special emotion by showing the geological history of the island: the Blue Grotto where the sea takes on an intense turquoise color; the Green Grotto with its emerald reflections; the Pastizza Grotto, which hides within other grottoes, some underwater others partly submerged; the Boat Grotto, where in the past fishermen would find shelter with stormy sea, and, at last, the Gold Grotto with glittering golden walls.
A boat trip
A boat tour of the island is an experience you can not miss on your holiday
A boat excursion to discover the wonders of Ustica is an experience suitable for the whole family. Under the hot Sicilian sun, floating on the turquoise sea waters of Ustica the fishermen on their colorful boats, which seem suspended between sky and water, will lead you to discover the most hidden coves, the wild inlets along the coast and the beautiful grottoes of Ustica.
A boat tour of the island is an experience you can not miss: the secluded bays are irresistible for an undisturbed swim and the grottoes offer a magic show of colors and sounds. In the background the intense green of the land's vegetation. This small island greatly emphasizes the spirit of Sicily, Ustica is a charming black pearl.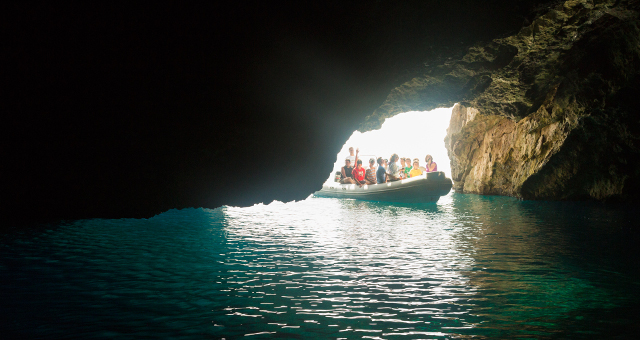 Our warm welcome, the sea, the nature and the wonders of Ustica are ready to welcome you
Book now your holiday in Ustica