Petit Hotel
in the heart of Ustica
Nice and comfortable, right in the center of the village, Hotel Clelia is a quality place referred to hospitality in Ustica. Fabio and Clelia, are very friendly, together with their staff, highly efficient and professional. They put at ease all the Hotel guests and every kind of traveler so they can enjoy a peaceful holiday on the beautiful island of Ustica.
HOSPITALITY AND COMFORT
Hotel Clelia boasts an excellent position in the heart of the island: just a few steps away from the main attractions, such as the Church of San Ferdinando Re, the Port of Ustica, the Archaeological Museum "Seminara", the Museum of underwater archeology at Torre Santa Maria, the laboratory-museum of volcanology at the Rocca della Falconiera, the infopoint of the Marine Protected Area, the Study Center. The 26 rooms of the Hotel, nice and comfortable, are always clean and suitable for the different needs of guests. The Hotel Clelia also has apartments in the Old Town and with Sea View, suggested for those who want to enjoy a more free life style, although maintaining their home habits on the island. A sea of ​​vacation awaits you in Ustica. A volcanic island a few kilometers from the coast of Palermo. The prehistoric village of the Faraglioni, the most popular seaside resorts and zone A of the Marine Protected Area are just a few minutes from the hotel.
Hotel overlooking Ustica
Discover the terrace of the Hotel Clelia
A splendid panoramic terrace, on the third floor of the building, is the main characteristic of the Hotel Clelia. The view opens on the village and the sea around Ustica and is beautiful in every season of the year. The hall is used for breakfast and as a multi-purpose area.
Breakfast at the Hotel Clelia is particularly taken care of: homemade cakes and jams, fresh fruit and bread, croissants of different types and, on request, savory dishes. Enjoy this breathtaking view from the terrace of the Hotel Clelia to start your day.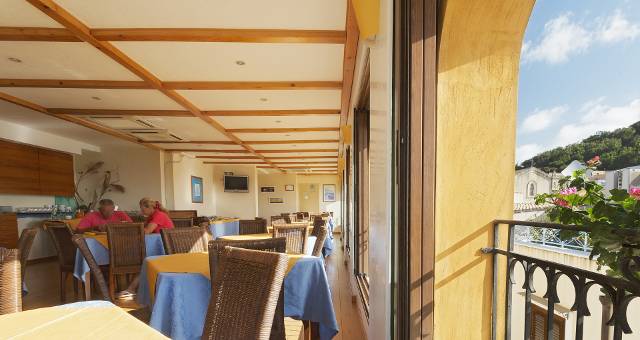 Our warm welcome, the sea, the nature and the wonders of Ustica are ready to welcome you
Book now your holiday in Ustica