ADMIRE USTICA FROM ABOVE
let the Island of Ustica enchant you
Having breakfast looking at the enchanting panorama of the island of Ustica is a special privilege of your holiday. The top floor of the Hotel Clelia holds a surprise: a terrace used as breakfast room and a multi-purpose hall.
UNIQUE VIEW ALL YEAR ROUND
On the third floor of the Hotel Clelia is the terrace: a welcoming room with a wide view. From the terrace you will admire the splendid view of the typical roofs of the village nestled between the Rocca della Falconiera, the Torre Santa Maria and the beautiful sea of ​​Ustica. It will be a wonderful way to start your day: a grandiose view of nature! The terrace is a multi-purpose area that, on request, can be used by visitors.
Meeting area in Ustica
on the terrace of the hotel clelia
Besides being the breakfast room, the Hotel terrace is a multipurpose area as well. The hall may also be used for business meetings, it is suitable for lectures, conferences and workshops for those who reach the island for study or work reasons.
The terrace is in fact equipped to host small meetings for up to 50 participants, with the possibility of arranging tables and chairs in the position most congenial to the meeting: horseshoe shape, as school desks, semicircle or circle.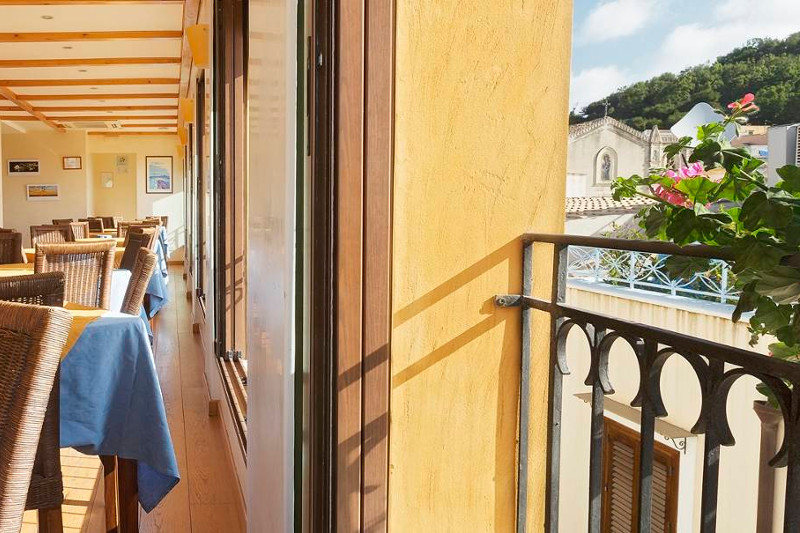 Our warm welcome, the sea, the nature and the wonders of Ustica are ready to welcome you
Book now your holiday in Ustica